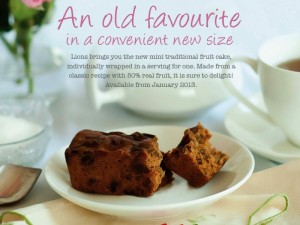 1st September 2015
The Christmas 2015 Organiser
We are writing to you to ask you to consider purchasing Lions Club Christmas Cakes or Puddings as gifts for your staff or clients this Christmas.
Lions Club Christmas Cakes and Puddings are made to a traditional recipe and to the highest quality and standards in order to provide you with excellent value for money.
We have 1kg Christmas cake and 900g Christmas pudding, at $12.00 each. I have attached a copy of our order form which you can complete and return as indicated. We expect to be able to supply cakes and puddings from the 1st November 2015 and will only process credit card orders once we are able to deliver the products.
The proceeds from the sale of Christmas Cakes and Puddings will be used to specifically help;
Provide families in the Westmead Children's Hospital, Baby ICU with free toiletries for use whist their baby is receiving treatment in the ICU.
Provide a large screen LCD TV to the Westmead Children's Hospital, Baby ICU for use by parents with babies receiving treatment in the ICU.
Sponsorship of the THINK program conducted through Parramatta PCYC specifically targeting at risk youth.
Funding various activities undertaken throughout the year in support of Allowah Presbyterian Children's Hospital, Dundas.
We trust that you will be able to assist us to help our local community through the purchase of Lions Club Christmas cakes and Puddings this Christmas.
Kind regards,
Lion Jon Copson
President 2013/16
M: 0403 232 101
E: jon@m8srates.com.au
ORDER FORM
Lions Christmas Cake order form 2015
Lions Traditional Christmas cake = $12ea
Lions Traditional Christmas pudding = $12ea
Boxes of 45 mini fruit cakes = $90 per ctn