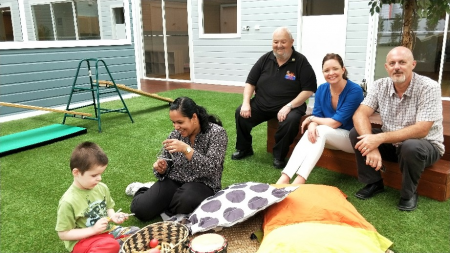 Christine Timmins (Jack's mum) did anything that a parent would do in seeking assistance for her son. A complex system had been introduced to Australia called the NDIS. For some the application and approval process is quite simple and for others, this is where the fight begins for a little boy to dream big. It was best thought by Jack's medical team that he undertook the Early Start Denver Model intervention if he was to be able to gain opportunities and outcomes from his young age. Elvio was informed that Jack had an acceptance letter from a local specialised childcare centre that offered structured intervention for children with disabilities, in particular Autism, but that his parents couldn't afford to meet the cost of such whilst raising Jack's siblings at the same time.
After writing to numerous organisations, PDG Elvio Munzone replied to her letter on behalf of Lions here in N5. At that stage Elvio wasn't sure what we could do but was sure that "nothing" wasn't going to be good enough. Elvio called me and asked if Parramatta could assist? Immediately I thought of this being a zone project. While PDG Elvio and myself rustled the clubs for support, Elvio visited with Christine, Dave, Jack and his siblings at their house. Elvio reported that young Jack could say only a few words but was just like any child his age and we needed to assist the Timmins Family however we could.
Within a week or so we had the clubs in Zone 11 and others from our District on board. Elvio approached the Follow Your Dream Foundation – Australia who quickly saw merit in this project and approved our grant application. Elvio then went about assisting me with a grant application to the ALF (Compassion Grant) and this was approved in no less than 48 hours from submission.
It is with great thanks to Lugarno, Crestwood, Bondi, North Rocks, Winston Hills, Sydney North West, Sydney Indian, Parramatta and Arthurs Vale Lions Clubs that we have been able to achieve such a wonderful outcome.  I also recognise and thank The Follow Your Dream Foundation – Australia ($5,000) as well as the Australian Lions Foundation ($21,606) for their very generous support of this project.
The total project value thus far is $34,956.
Young Jack has progressed very quickly with the early intervention that was sought. His vocabulary has improved greatly and communication with his family is progressing well. It is hoped that he may be able to enrol into a local school into the future as a result of Lions believing in him.
Christine will be presenting at the upcoming Parramatta LGA Mayoral Civic reception to all those Lions attending to say hello and a big thank you.
As PDG Elvio would say "We create miracles through service" and "Changes people's lives".
Jon Copson
Secretary
Parramatta Lions Club